J Crew's loss beats Street, expects solid Q1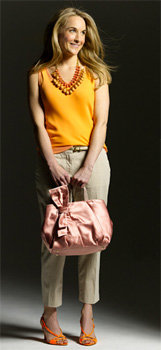 J Crew - spring summer 2009
* Sees 1Q adjusted EPS 7-12 cents
* Q4 net loss 22 cents vs Street's 27 cents
* Q4 revs fall 3 pct, same-store sales down 13 pct
* Shares rise 8 percent after-hours (Adds estimates, CEO quotes, adjusts shares)
By Alexandria Sage
SAN FRANCISCO, March 10 (Reuters) - J Crew Group Inc (JCG.N) slid into the red after quarterly sales dived, but unveiled a first-quarter outlook that may surpass Wall Street expectations, sending its shares up 8 percent on Tuesday.
The upscale brand, which operates its own stores, a catalog and an Internet business, expects first-quarter earnings to range between 7 cents and 12 cents per share, excluding severance and other one-time items.
Wall Street, on average, was forecasting earnings of 8 cents per share for the first quarter.
But the apparel retailer, which announced a cost-saving plan last month that encompassed job cuts and fewer store openings, would not give an annual outlook given economic uncertainty and worsening consumption.
Chief Executive Millard Drexler told analysts on a call the company, which had resorted to holiday markdowns to clear inventory, was striving to adjust to "this new, not fun, retail reality.
"The fourth quarter was quite extraordinary in the clearance pressures we all had," he said.
When asked about the current consumer environment, Drexler replied, "It kind of sucks, you know."
J Crew was slower than most other apparel retailers to feel the negative effects of the U.S. recession. But in past months, J Crew cut its full-year outlook and scaled back its capital expenditure plan as traffic slowed at its stores, warning that a "sea-change" had occurred in customers' buying habits.
The net loss in J Crew's fourth quarter came to $13.5 million, or 22 cents per share, compared with a year-ago profit of $25 million, or 39 cents per share.
Analysts on average had been expecting a loss of 27 cents per share, according to Reuters Estimates.
J Crew's results also included an asset impairment charges of 2 cents per share, related to underperforming stores.
BY THE NUMBERS
Shares in the U.S. firm rose more than 8 percent to $10.50 after closing at $9.72, up nearly 4 percent, on the New York Stock Exchange.
Its sales fell 3 percent in the holiday quarter to $388 million, while same-store sales, a key gauge of performance, fell 13 percent.
Gross margin fell in the quarter to 27.6 percent of revenues from 41.3 percent a year earlier due to more markdowns used to clear unsold items.
"Significant" margin pressure was expected to continue in the first half of 2009, Chief Financial Officer Jim Scully said.
Scully said the company expected its small Madewell chain to incur a loss of $15 million to $16 million in 2009, compared to $11 million last year.
Drexler said inventory levels would be in line with current business trends by the end of the second quarter. Analysts have criticized what they have called too-high inventory levels at J Crew that have appeared out of whack with consumer buying patterns.
Costs also rose in the holiday quarter due to spending on J Crew's direct-to-consumer division, which has seen software glitches that affected order fulfillment. (Editing by Edwin Chan, Leslie Gevirtz)
© Thomson Reuters 2023 All rights reserved.