Hanesbrands second quarter profit tops Street
July 29 (Reuters) - Underwear maker Hanesbrands Inc (HBI.N) reported a quarterly profit that topped Wall Street estimates as cost-reduction efforts helped offset a sales decline, and forecast third-quarter operating margins similar to second-quarter levels.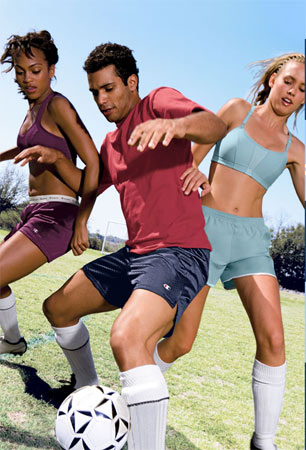 Champion USA, a Hanesbrand Inc brand - www.championusa.com
The company expects lower commodity costs and further cost savings to prop up operating margins in the third quarter, it said on a conference call.
Hanesbrands said it was committed to its previously-stated goal of improving its gross margins by 10 to 100 basis points for the full year, but warned the higher end of the range was less likely due to incremental investment spending.
Cost of sales and selling and general expenses fell during the quarter compared with the year-ago period.
For the full year, the company sees $105 million in capital expenditure.
Hanesbrands said it is developing plans to pay down a further $300 million in debt in 2010.
Net income fell to $30.6 million, or 32 cents a share, in the second quarter ended July 4, from $57.3 million, or 60 cents a share, last year.
Excluding restructuring charges and other items, it earned 42 cents a share. Total net sales fell 8 percent to $986 million.
Analysts, on average, expected the company to earn 40 cents a share, before items, on revenue of $978.9 million, according to Reuters Estimates.
IMPROVING SALES TRENDS
Hanesbrands, which also makes casual wear and active wear, said it sees a single-digit decline in third-quarter sales.
Winston-Salem, North Carolina-based Hanesbrands, whose brands include Wonderbra, Just My Size, Bali, Hanes and Playtex, has faced a protracted slump in sales, forcing the apparel maker to slash jobs and curb expenses.
Sales declines at three of its segments -- innerwear, outwear and hosiery -- were lower in the second quarter than in the first quarter, while its international sales declined at a rate similar to the first quarter.
Outerwear segment sales saw a significant improvement, as it declined 11 percent compared with 21 percent last quarter.
"Based on advanced bookings, we expect total outerwear sales trends to further improve" in the third quarter, Hanesbrands said.
Shares of the company, which was spun off from U.S. foodmaker Sara Lee Corp (SLE.N) in 2006, were up 22 cents at $17.35 in trading after the bell. They closed at $17.13 Wednesday 29 July on the New York Stock Exchange. (Reporting by Viraj Nair in Bangalore; Editing by Deepak Kannan and Unnikrishnan Nair)
© Thomson Reuters 2023 All rights reserved.