Fossil sees weak H1 and will cut jobs
* Q4 EPS $0.69 meets estimates
* Sees Q1 EPS $0.14 to $0.16 lagging Street
* Sees Q1 net sales decreasing 8 pct to 10 pct
* Suspends bonus payments, institutes pay cuts
* Sees FY 2009 EPS $1.40 to $1.60
Feb 17 (Reuters) - Watchmaker Fossil Inc (FOSL.O) posted quarterly results in line with estimates, forecast a weak 2009 first-half and said it is in the process of making selective layoffs and other cost-cutting measures in 2009.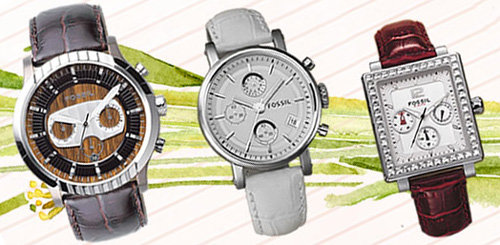 www.Fossil.com
Fossil, known for its namesake watches and Relic handbags, said it has initiated a number of measures including a hiring freeze, and suspension of merit-pay increases and company contributions towards employee retirement plans.
The maker of jewelry, leather goods, belts, sunglasses and apparel has also instituted salary reductions for all executive officers and senior vice-presidents, it said in a statement.
These payroll-related expense reductions are expected to result in annual savings of about $16 million.
A shift in sales mix to the company's direct-to-consumer segment that benefited profitability in the fourth quarter will hurt the 2009 first and second quarters due to seasonality, Fossil said.
Revenue in the period will also be hit by unfavorable forex rates, it added.
The company, which competes with Quiksilver Inc (ZQK.N), Movado Group Inc (MOV.N) and Coach Inc (COH.N) among others, said it expects to earn $0.14 to $0.16 cents a share in the first quarter. Analysts were expecting 20 cents a share, according to Reuters Estimates.
For the alerts, please double-click. (Reporting by Renju Jose in Bangalore; Editing by Anthony Kurian)
© Thomson Reuters 2023 All rights reserved.