Chico's quarterly loss deeper, but beats view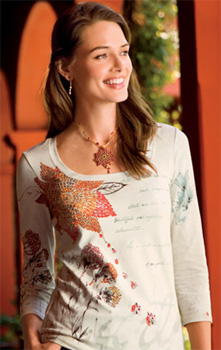 Chico's spring-summer 2009
* Q4 loss $0.14/shr vs. Wall St. loss view $0.17/shr
* Q4 revenue down to $373.4 million
NEW YORK, March 3 (Reuters) - Women's apparel retailer Chico's FAS Inc (CHS.N) on Tuesday posted a deeper quarterly loss, but topped Wall Street's estimates, even as it faced lower sales and gross margin during the period.
The net loss was $40.5 million, or 23 cents per share in the fiscal fourth quarter that ended Jan. 31, from a loss of $20.5 million, or 12 cents per share, a year earlier.
Excluding costs tied to noncash impairment, after-tax severance and workforce reduction, Chico's loss of 14 cents a share was not as bad as the average expectation for a loss of 17 cents per share, according to Reuters Estimates.
Sales fell to $373.4 million from $409.3 million a year earlier. Same-store sales fell 13 percent in the quarter, the company said.
Chico's has been cutting jobs and limiting capital spending to trim costs and weather a long slump in sales. The retailer, whose clothing is targeted at women in their 50s and older, has also been trying to upgrade its merchandise and image to spur demand. (Reporting by Aarthi Sivaraman, Editing by Maureen Bavdek)
© Thomson Reuters 2023 All rights reserved.