Chantal Thomass to join Chantelle Group
It should be only a matter of a few days until we see Chantal Thomass to be moved to Chantelle's brand portfolio. It was the designer herself that confirmed this, while the potential buyer said that negotiations are well underway. The Dim group and its owner Sun Capital Partners, which work with major outlets worldwide, had apparently "no more room" for the high-end brand, named after its designer, which they had bought in 2005.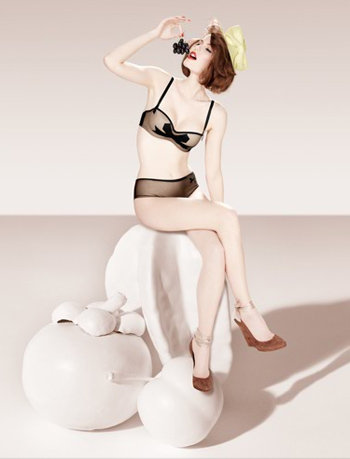 Chantal Thomass Spring/Summer 2011
The Chantelle Group, on the other hand, is developing via a more selective route. Moreover, Chantelle's lingerie retailer Orcanta already sells Chantal Thomass among its external offer. This acquisition would thus be a natural shift, although if confirmed, it would once leave the brand's future in doubt since its launch in 1975.
American private investment firm Sun Capital is for now still its owner. In 2005, it had bought the Dim group and with it Chantal Thomass from the
Sara Lee
group. The latter had become a majority shareholder of the brand 7 years before, after a long and painful process. The designer had to repurchase the rights to her name after signing a licence and seeing her brand be put into compulsory liquidation by its Japanese stakeholders in 1996. Those had entered the capital in 1985 when Chantal Thomass' popularity started to take off.
Copyright © 2023 FashionNetwork.com All rights reserved.