Arcandor heiress blames herself for problems
FRANKFURT (Reuters) - Madeleine Schickedanz, the wealthy heiress behind Arcandor (AROG.DE), blamed herself in part for the collapse of the German tourism and retail group and the loss of her fortune, she told Sunday paper Bild am Sonntag.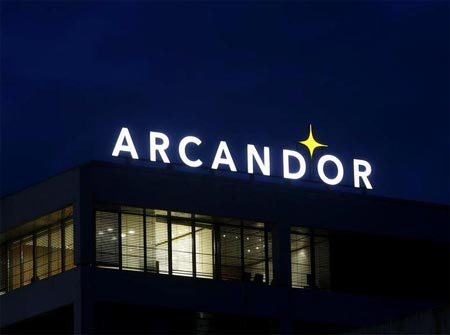 Arcandor in Essen, Photo: DPA
"I noticed far too late that I lost control. And I should have tackled issues like the Internet in mail-order or the future of department stores and their structural change much earlier," the 65 year-old recluse said in a rare interview.
"My stake was once worth 3 billion euros ($4.2 billion) at its peak, today it's only 27 million."
Schickedanz acknowledged that her four children believe she failed to pay enough attention to what was happening to the company, saying she had never met Arcandor Chief Executive Karl-Gerhard Eick and did not know why his prominent insolvency advisor Horst Piepenburg resigned late on Thursday 16 July.
The heiress left her husband, Leo Herl, in charge of overseeing her 27 percent stake. He sits on Arcandor's supervisory board to represent her interests, but never contractually had a claim to her once substantial fortune.
She distanced herself from allegations that Thomas Middelhoff had acted criminally when he was CEO.
"Without him KarstadtQuelle would have already met its end," Schickedanz said, referring to Arcandor under its previous name, adding that the accusations against Middelhoff were "unfair."
Arcandor filed for insolvency in early June after the German government rejected its calls for state aid, saying its owners including Schickedanz and Sal. Oppenheim had not pitched in enough money to mount a joint rescue. It marked the biggest non-bank casualty for the country since the onset of the financial crisis. Arcandor's assets - such as the
Karstadt
department stores and the Quelle mail order business founded by Schickedanz's father Gustav - are household names in Germany.
"If Arcandor cannot be rescued and banks call their loans, I lose everything -- stocks, houses, holdings in other companies. I wouldn't even get a pension," the heiress explained, adding the family mansion and estate outside of Nuremberg could even be taken from her.
"We live on 500 to 600 euros a month. We also buy at discounters. Vegetables, fruit and herbs we have in the garden."
(Reporting by Christiaan Hetzner; Editing by David Cowell)
© Thomson Reuters 2023 All rights reserved.