Deckers to cruise through slump with red-hot UGGs
* What: Deckers Outdoor Q4 results
* When: Feb. 26, 2009
* Results expected to meet or beat Street
* Core UGG brand to propel earnings
* International sales to boost 2009
By Dhanya Skariachan
BANGALORE, Feb 25 (Reuters) - What's scarce is what's attractive -- the mantra helping Deckers Outdoor Corp (DECK.O) breeze through a turmoil that has sent other retailers scrambling for ways to entice tight-fisted U.S. consumers.
The maker of sheepskin boots and slippers seems to be all set for a stellar fourth quarter as its premium UGG brand still finds many loyalists in a recession.
Deckers has reaped benefits from a distribution model that encourages scarcity to grow demand for its premium label of sheepskin footwear.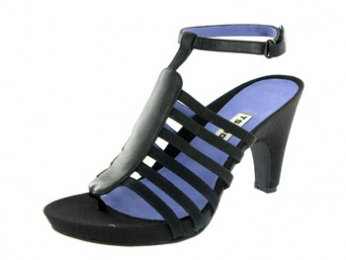 Deckers - Tsubo Sudri
About 81 percent of the retailers carrying UGG said it was "far and away the hottest brand for the holiday (season)," Mitch Kummetz, an analyst with Robert W. Baird said.
Recent checks continue to point to demand outstripping supply, though to a lesser degree as retailers are better inventoried, Susquehanna Financial Group's Christopher Svezia said. Spring-season orders for UGG look "very good," he said.
"We are hearing that Bloomingdales, a key customer, is notably increasing the percentage of UGG business for spring 2009 and that their overall footwear business has actually been positive," Svezia said.
The footwear maker's UGG line of shoes, boots and slippers are also available at other upscale retailers such as Nordstrom Inc (JWN.N) and Neiman Marcus.
At Nordstrom, the largest UGG retailer, demand has remained strong, particularly for seasonal spring colors in Classic and Cardy boots, Svezia said.
In the latest third quarter, UGG sales rose 57 percent and contributed more than 90 percent of Deckers' total revenue, helping the shoemaker report better-than-expected results for the eleventh consecutive quarter.
In the current economic turmoil, retailers are sticking with proven winners when it comes to placing orders and reorders, and this has sustained UGG's momentum even during non-season periods.
Two months earlier, Deckers had said that every retailer that bought UGGs for the fall of 2008, also placed orders for the spring of 2009.
The brand's consistent performance also seems to have ended a long-standing debate on whether UGG was a mere fad or a must-have name. Analysts now think the brand is here to stay.
When the company reports results Thursday, analysts as well as investors will worry less about its fourth-quarter performance, and seek more clarity on 2009, the extent of retailer cancellations for spring, current inventory levels and growth avenues for the brand.
Analysts expect a slowdown in the shoemaker's sales growth in 2009 as department stores and other retailers apply brakes on buying plans in the backdrop of the increasingly challenging retail environment.
But they expect Deckers, which sells its products in Europe, Canada, Australia, Asia and Latin America apart from the United States, to easily outperform its peers this year.
Svezia believes Goleta, California-based Deckers will likely be one of the few footwear companies to grow in 2009.
Analysts expect expansion outside the United States to propel growth of the UGG brand in 2009 and beyond. Currently, the company's international segment accounts for about 14 percent of Deckers' total business. (Editing by Pratish Narayanan)
© Thomson Reuters 2023 All rights reserved.