Art & fashion worlds join massive Haiti celebrity auction
Artists including Damien Hirst and Rolf Harris and portrait photographer Rankin have joined some of the biggest names in music in a special auction to raise funds for Oxfam's emergency response in Haiti, which has raised nearly £35,000 in just its first two days. They are joined by Shirley Bassey, Dido, Status Quo, PJ Harvey, La Roux and Turner Prize winner Jeremy Deller.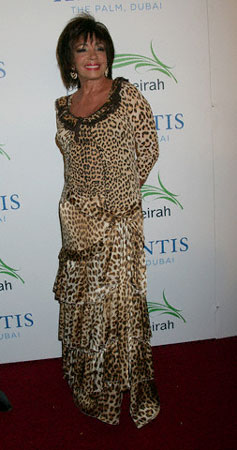 Dame Shirley Bassey has donated two pairs of shoes to the auction - Photo: Jens Kalaene/dpa/Corbis
Rolf Harris, who has contributed a recent painting to the auction, said:
"It's heartbreaking. Millions of people have had their lives devastated by the earthquake in Haiti. I am grateful that I can help in this way. Every single bid has the potential to help change thousands of lives, so get into bidding mode, log on, and get onto
eBay
now."
Rolf's oil painting, 'Pines on the Hill', was created just a few weeks ago using a palette knife.
Other new items in the auction include:
* Turner Prize winner Jeremy Deller: 'Bless The Acid' letter press print is 14×20inches, signed and dedicated to the winner.
* Exclusive Congo print from Rankin.
* Dido's dress from the Life For Rent album sleeve.
* Brian Ferry: Exclusive, never seen before
Roxy
Music artwork. The print is an outtake from the Roxy Music album 'Avalon'.
* Florence and the Machine: Limited edition signed print based on the 'You've Got the Love' video.
* Signed shirts and waistcoat, as worn on stage by Status Quo.
* A dress and shoes worn on the 'Uh Huh Her' tour and in publicity by PJ Harvey. This is the first ever PJ Harvey outfit to be officially auctioned.
* La Roux: Two Sylvie Markovina necklaces, signed on the back by Elly.
* Shirley Bassey: signed pair of shoes.
* The red Gibson guitar from the 'Valerie' video by Mark Ronson.
* Editors' Yamaha drum machine used for top ten single 'Munich', signed by the band.
* Chemical Brothers artist Kate Gibb has donated a hand-rendered silkscreen print of the album artwork for Brotherhood.
The auction is a rapid response from the biggest bands in the UK and beyond to the massive crisis in Haiti and Oxfam's ongoing emergency response there.
The auction runs on eBay until Tuesday 2 February. All proceeds from the auction will go to Oxfam's humanitarian response in Haiti. More items will be added to the auction over the coming week.
The full auction, organised by Glastonbury's Emily Eavis and Oxfam, can be seen at www.oxfam.org.uk/haitiauction, but highlights include:
* A recording of a bespoke piece of music written by Damon Albarn.
* The Fender Stratocaster played by Alex Turner in the Arctic Monkeys' 'I Bet You Look Good On The Dancefloor' video.
* Chris Martin's 'Viva La Vida' tour jacket, signed by all four members of Coldplay.
* A luxurious hot shower at the Eavis' farmhouse during the Glastonbury weekend, for one festival-goer to wash away the festival excesses in style.
Emily Eavis¸ who travelled to Haiti with Oxfam in 2002 to meet coffee farmers supported by the charity, said:"Just like the millions of people who have already given so generously to the DEC appeal for Haiti, we felt it was important to do whatever we could to help as quickly as possible. We hope people will dig deep for some of these amazing auction prizes and help Oxfam to save lives in Haiti at the same time.
"I visited Haiti with Oxfam in 2002 and it's the poorest place I've ever been by a long way - it seems doubly unfair that it should be hit by such a devastating earthquake, especially after the hurricanes of the last two years. They do not have the resources needed to cope with a disaster of this scale, that is what makes this so much worse.
"I know how hard people there work to try to survive: they have an incredible spirit and face hardship head-on without self pity. I can't imagine how they are coping now."
Oxfam is one of the 13 member agencies currently taking part in the Disasters Emergency Committee Haiti appeal, which has raised more than £45 million so far.
To make a donation to the DEC Haiti Earthquake Appeal visit www.dec.org.uk or call 0370 60 60 900, donate over the counter at any post office or high street bank, or send a cheque made payable to 'DEC Haiti Earthquake Appeal' to 'PO Box 999, London, EC3A 3AA'.
© Thomson Reuters 2023 All rights reserved.